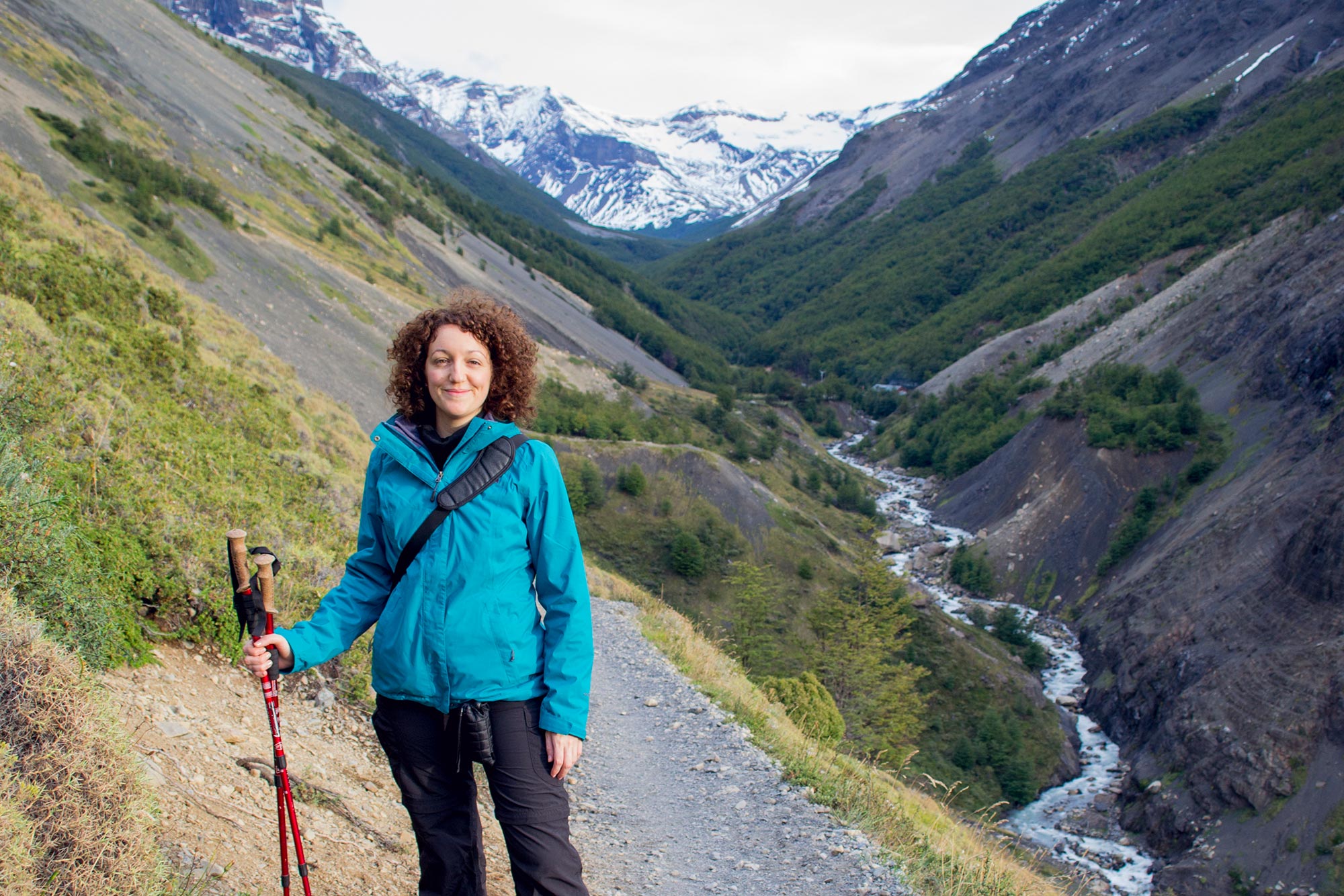 I have to say it: I am not a specialized trekker and I am not walking any dangerous trail. I enjoy being in the nature, waking up very early to reach new destinations (see sleepy face in the picture). I am thrilled by beautiful landscapes and having muscle pain does not bother me so much.
Today I wanna post my personal packing list when going for a trekking holiday. I know that having limited space and being a girl is a bit tricky. But not impossible


It is important you divide things in categories. Following are my personal lists, I have also added links to the best products I bought and used myself.
(You can download and print and check the simplified list here)
TREKKING-CAMPING
▢ 1 Versatile weatherproof jacket / this is possibly the most important thing together with shoes. Without a good jacket, you'll be cold, wet, sick. I went for a double layer jacket

▢ 1 Hiking boots / These have to become your best friends, when you buy a pair, use them at home some days and if you do not feel comfortable, send them back. It is essential that you buy a half number bigger size so that thick socks can find their space and also your swollen feet the second day of hiking. I highly recommend these shoes from North Face: never had pain in my feet, NEVER! they are light and waterproof.

▢ 1 Backpack / This really depends on how long is your trip and if you'll camp or not. A general advice is to look for where the zippers and closures are. A top only closure means you'll need lots of time to get something in the bottom. I like those models where you can independently open the bottom and the top. Also backpacks with dividers are really good.
▢ 1 Rucksack / This has to be "big enough". You might use it for short treks and also in the cities. It's important that it can be locked in the main zipper.
I bought a Decathlon model that has reinforced back pads and a rain cover. Pretty cheap and very versatile.
▢ 1 Pair of walking sticks / You don't need the best in the world but you definitely need some good balance help in some trails.

▢ 1 Silk Travel Sheet / This is important if you are going to hostels or if you are camping with a rented sleeping bag. It is super light and will keep you away from germs.

▢ 1 Sleeping bag and pad / Remember in many places you can rent these.
▢ 1 good pair of zip-off hiking trousers / very important, you might start a trek in the cold morning and continue in a hot day. Covertible trousers are really handy. But the quality of the zippers has to be good in case of rain. Again North Face for me. I have a pair that also has two side pockets where I always put my camera. Also, look if they can have a belt. I have some hooks that i attach to things and then to my belt.
▢ 2 pairs of leggings / to be used to sleep or under trousers, in the city, on planes. They are small and dry quite fast.
▢ Few pairs of socks / I have those thick ones that have different zones to protect the ankle and the sole.
▢ Cotton Underwear / It takes more space but this is a must have for women. The non-organic fabrics do not let your skin breath. While trekking warmth can help bacteria flourish. You don't want to get sick in your intimate parts while trekking.
▢ Micro-fiber towel/ Small and light
▢ 1 Pair of comfy shoes / bring your most beloved ones, the ones that you normally use when you have no will to dress up. One recommendation here is to avoid the latest expensive model. In some places it can be dangerous to have expensive shoes at your feet. (A friend told me the story of robbers in Ipanema beach wanting the shoes of a guy)
▢ Some carabiners / those are ideal to hang anything to your belt or to your backpack. really handy, light and perfectly functioning. Unless you are going to climb, cheaper ones will do their job.

▢ 1 L Refillable water bottle / better if thermos
▢  Electric torch
▢ 3-4 light T- Shirts for hiking. Here we come to my other beloved brand, Decathlon. They have sports amateur equipment that combines good-enough quality and affordable prices. I buy there my not essential pieces.
▢ 1-2 wool under shirt(s) / very important to have a warm backup for cold nights or hikes.
▢ 1 Fleece

▢ Rain pants / This I also bought in Decathlon. They are very baggy and not really charming, but they work. They are small and will stay in the bottom of a backpack just-in-case. You can wear them on top of anything you are wearing.
▢ Gloves / They should be warm and waterproof for cold nights or bad weather. I also have a very thin pair of gloves that allow me to use my touchscreen.
▢ A hat /  I have a hood on my jacket, But at night, camping, a warm hat can be a plus.
▢ Sun glasses + lotion (50) + lip balm with sun protection (also 50)
▢ Before you go make sure you have all the vaccinations in place (and bring insect repellent)
▢ All-in-one knife / Just be careful not to leave it in the hand baggage (like I did once)
TOILETRIES

I try to buy as much as I can on the road with some few exceptions:
▢ Hard soap / Never makes disasters in my back
▢ A good brush / I have curls…
▢ Independent doses of conditioner / I have curls…
▢ Elastic bands / I have curls…
▢ Independent doses of face or body cream / I use them for all my body, very important if the area is very hot and sunny, or windy
▢ A small package of wet toilet foils / they are small and handy
▢ Medicines / Anti-diarrhea, paracetamol, antipyretics
ELECTRONICS
▢ Cameras /  In some places you can arrive after days of hiking. Remember battery charging is an issue. I bring with me a film camera and a digital camera to be sure to have a backup. Ask some camps or shelters if they provide free charging stations.
▢ Pen drive /  to back up while on-te-go
▢ Phone / Smartphones are very used nowadays from trekkers because of tracking apps, compass, flashlight, routes, camera, messaging. It is a good companion and very handy. However battery charging is an issue and also screen fragility. Battery packs are a must for more than a day hiking.
DOCUMENTS
▢ I also write down all my booking numbers for flights or buses (the only fixed steps of my trips), and the phone numbers of friends and embassies.
▢ A copy of documents is also super useful as you might want to keep your official ones in your room instead of carrying them around all the time.